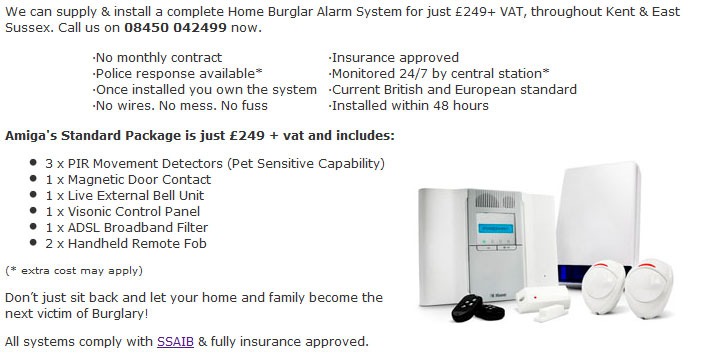 Glossary of Alarm Terms
Active intrusion protection Even the first break-in attempt is reported. This is made possible by alarm components which do not only combine state-of-the-art wireless technology with effective mechanical break-in protection (mechatronic detectors), but at the same time monitor the prying open of doors and windows with the help of a magnetic field sensor system.

Alarm panel The central switching station for the whole alarm system, which processes all the information, forwards it and responds as required.


Alarm system Burglar alarm system or danger warning system.


Alarm zone Each zone is monitored by a detector (for wireless) or a detector group (for wire) and can be programmed separately.


Arming– when the burglar alarm system is triggered (e.g. door open) it issues an alarm; "disarming" of an alarm panel – does not issue an alarm when the burglar alarm system is triggered; danger warning systems are programmed differently: if, e.g. smoke is detected, an alarm should still be issued even when the alarm panel is disabled.


Certification Test certificate from independent test institute which certifies a high degree of quality and security for alarm systems (Relevant in Germany: certification in accordance with accident prevention regulations, insurance companies and VdS damage prevention).


Contact detector The detector recognises when a window, door, window blind, garage door etc. is opened.

Danger detection system, danger warning system Alarm system which detects break-ins and other hazards/emergencies and then issues an alarm.

Display Display on alarm panel for operating and programming the panel.


External siren Transducer for outside area, generally configured as a combination transducer (siren + strobe light).


Glass breakage detector These detectors respond to breaking glass. A differentiation is made between passive, active and acoustic glass breakage detectors.


Interior protection The interior area of the building is protected here, in particular those areas that a burglar would, in all likelihood, have to pass through; generally motion detectors and photoelectric barriers are used here.

Installation Mounting of panel and components including initial start-up.

Internal alarm The alarm is only sounded in the building, the external sirens are not activated.

Internal siren Transducer for inside area, generally a purely acoustic transducer (in addition external siren)

Motion detector Detector which recognises people on account of moving heat (PIR), ultrasonics (US) or microwaves/"radar" (MW).

Perimeter protection All access to the property is monitored here; this includes front doors, terrace doors, cellar doors, skylights and all windows; generally used here are contact sensors, glass breakage detectors and the wireless window lock – presence in the building is possible at any time, even when the alarm is armed.

Perimeter surveillance Complete, large-area outdoor protection of periphery or near field, e.g. through photoelectric barriers and motion detectors on the site and/or surveillance cameras with intelligent motion detection.

Programming Detailed settings for alarm panel to match user requirements and wishes (e.g. specify zones/subareas).

Remote access/remote maintenance Maintenance/programming of alarm panel using PC at home.


Silent alarm For this type of alarm the transducer does not make any sound (in indoor and outdoor areas everything remains quiet); a monitoring station is silently notified (burglars should not be driven away, but rather caught, culprits should not be provoked into action etc.).

Smoke detectors (Fire alarm) Optical smoke detectors save lives because they respond to smoke particles in the air (generally toxic gases): Thermal detectors/thermal differential detectors respond to a maximum temperature (e.g. 65°) or signal a sudden rise in temperature.

Telephone dialler Device with which the alarm messages from a panel are sent via telephone line. Telephone diallers can be integrated into alarm systems already or be added as additional components.

Transducer Alarm device which issues the panel when the corresponding command is given (siren, strobe light etc.).

Vibration detector These detectors react to vibrations generated during a break-in.

Wire alarm system Alarm system with detectors that are connected to the panel by wire (practical in new buildings or large buildings).

Zone Describes a closed electric circuit to which the alarm or sabotage contacts are connected and which are connected with the burglar alarm panel.